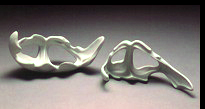 Sally Rogers grew up in a rural area of northern Michigan near Traverse City, drawing and writing, raising various farm animals, and working in the cherry and apple orchards that dominate the landscape of Grand Traverse and Leelanau Counties. Always drawn to the visual arts, she took her first college course in pottery, at the age of fifteen, at Northwestern Michigan College. From 1978 to 1981, she earned her Associate of Liberal Arts Degree at N.M.C., while focusing much of her time and energy in the Ceramics Department, where she was the studio shop-technician. Mixing clay and glazes, loading and firing kilns, and exploring various hand-building and wheel-throwing processes, helped to steer her toward The Center for Creative Studies - College of Art and Design, in Detroit, for her Bachelor of Fine Arts Degree.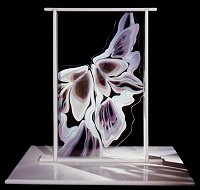 C.C.S. - C.A.D. provided both an explorative atmosphere as well as a knowledgeable and diverse faculty, where the visual arts were the focus of the entire College. At C.C.S., Sally continued her ceramics work, but also began an intense immersion in various glass–-working processes, both "hot" and "cold," in the Glass Department chaired by Herb Babcock. Herb encouraged an experimental approach to the material, with an emphasis on exploration and the development of a personal, internal vision. At C.C.S, Sally persued extensive experimentation and practice in glass-blowing and glass-casting, as well as in the creation of a number of multi-layered, fused, and bonded flat-glass panels and free–standing sculptures.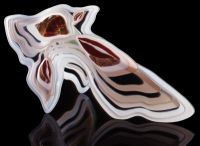 In 1984, Sally graduated from C.C.S. - C.A.D., and that same spring was invited to exhibit her panels and sculptures at Habatat Gallery's National Glass Invitational. This led to other glass gallery contacts and exhibitions, and Sally remained in the Detroit area for two more years, dividing her time between employment as the Crafts Department Faculty Assistant at C.C.S., and working with layered glass in her studio in the notorious Cass Corridor. This inner-city area supplemented her `formal' education with a broad and interesting look at human behavior, human patterns, and human frailties - her own, as well as others -- all themes that have been incorporated into her sculptural work over the years.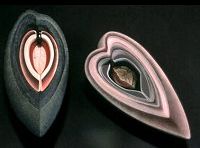 The studio off Cass Avenue provided time and space to develop both glasswork and work-related equipment. Building custom equipment for a glass studio required steel­working skills, and in 1985 Sally completed a welding certification program in Royal Oak, Michigan. In 1986, she applied to graduate programs to earn a Master of Fine Arts degree, and was awarded a full-scholarship Teaching Assistantship for the Glass Program at Kent State University, in Kent, Ohio. There, her steel-working skills found ample opportunity for practice and development, both in fabricating equipment for the shop, as well as in the beginnings of incorporating and combining glass, metals, and other materials in her sculptural work. A series of `pate de verre' glass castings, combined with steel, formed the backbone of her M.F.A. Thesis Exhibition.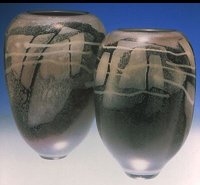 In 1989, Sally applied for, and was awarded, an Artist-in-Residence position at Penland School of Crafts, in North Carolina. She had been the studio monitor for a two-week glass workshop at Penland in 1984, and it was fulfilling to return for this three-year Residency, during Penland Director Hunter Kariher's supportive tenure. After tearing down and re-building an old and decaying glass studio at the "Barns,"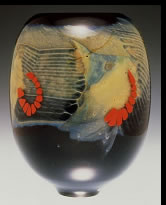 Sally proceeded to fabricate and "furnish" the studio with a complete range of hot-glass equipment, including several new ovens, a large pot-furnace, glory-holes, and grinding equipment. She blew glass on a full–time basis, developing the "Earth Strata" series of vessels and solid hot-worked sculptures, which involved successive layers of cane-drawings of abstracted fossil and geological imagery. She also continued to experiment further with the mixed-media sculptures, concentrating on a series entitled "Primitive Weapons," which utilized stylized shapes and forms based on early tools and weapons. Gradually, the larger-scale steel/glass/stone/wood sculptures captured more and more time and attention, and since 1992 have been the primary focus of Sally's work.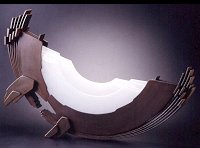 In 1994, Sally purchased land in the Blue Ridge Mountains of Mitchell County, North Carolina, and constructed the studio where she now works full time. Sally has taught glass workshops at Kent State University, Western Carolina University, Penland School of Crafts, and Haystack Mountain School of Crafts. In 1996, she had a Solo Exhibition of her mixed-media sculptures at the Mint Museum of Art, in Charlotte, North Carolina; in 1999, she had a Solo Exhibition at the Appleton Museum of Arts, in Ocala, Florida. She has been a permanent artist with The Galerie Internationale Du Verre, in Biot, France, since 1990, and has been affiliated for many years with Imago Galleries, in Palm Desert, California, and with Blue Spiral One Gallery, in Asheville, North Carolina. Her work has been exhibited at S.O.F.A. Chicago, at "Glass Lover's Weekend" at Wheaton Village, and at many gallery and museum exhibitions, both nationally and internationally.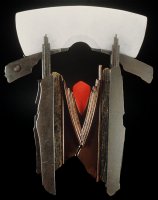 Sally Rogers' work is included in many magazine and book publications, including Insight - A Collector's Guide to Contemporary American Glass, by Ferdinand Hampson, Calido!: Contemporary Warm Glass, by Joanne Stuhr, and Glass Today, by Henry H. Hawley. In addition, she has received numerous grants and awards, among them the David B. Smith Fellowship at Kent State University (1987), a North Carolina Arts Council Fellowship Grant (1996 - 1997), a North Carolina Regional Artist Project Grant (2001), and an Honorary Diploma from the Jutta Cuny-Franz Memorial Award Foundation, in Dusseldorf, Germany. Her work is in numerous public, private, corporate, and museum collections, including The Minneapolis Institute of Art, The Appleton Museum of Art, and The Mint Museum of Craft + Design.